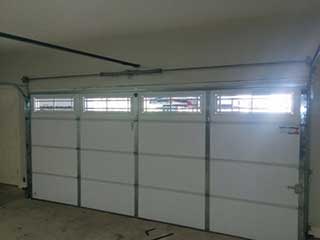 Prevent Trouble In The Future
If the springs on your garage door don't have the correct tension, they can put a lot of strain on the gears of the operating motor and make it work harder than it needs to. The problems this can cause, such as broken motor gears, can be very expensive to fix. Avoid having to pay more money for repairs further down the line by letting our professionals tend to it now!
Beware Of The Hazards Of DIY
Replacing or adjusting the springs on your garage door is not an easy job. It's difficult and can be very dangerous, as the heavy, tightly coiled springs possess a lot of stored energy and can easily cause serious injury. Don't risk your own safety trying to replace or adjust the springs yourself. All of our professionals are trained and experienced experts, and will have the job done for you quickly and at an affordable price. Leave the hard parts to us, so that you can focus simply on making the most out of your garage!
Professional Spring Replacement And Adjustment
Dealing with garage door springs is complicated work. Aside from the dangers associated with attempting replacement or adjustment yourself, there are also different types of springs for different doors, with varying methods of adjustment and replacement for each. It's important to leave the hard work to the professionals in order to avoid mistakes. Whether you need to adjust a torsion spring or replace an extension spring, let our trained professionals take care of it for you for your own safety and peace of mind from a job well done.
Book Our Experts Now
Contact Garage Door Springs Westminster today and let us get to work at a time and date that best suits your schedule!
Count on us for:

Belt Drive Opener Installation

Garage Door Safety Inspections

Oil Tempered Torsion Springs

Garage Door Transmitter Repair