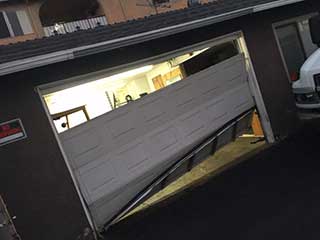 A complex machine like your garage door can experience a broad range of malfunctions. We know how problematic it can be to deal with a door that's gotten off track, or one that's suffering from opener problems. That's why we offer comprehensive and reliable emergency repair services that can cover any issue involving any hardware or electrical component. We use high quality replacement parts, made by the industry's leading brands.
Opener Motor Gear Problems
The entire door relies on the opener motor to drive it. Without a strong, reliable gear mechanism you'll find your door running slowly and unreliably, and different mechanical components can wear out over time. We recommend regularly checking the condition of all components, including the gear drives, cleaning them and applying lubricant if necessary. If your motor unit is showing signs of weakness and wear, our team can also help you with a complete opener replacement project.
Off Track Garage Door
Garage doors can get off their tracks for numerous reasons, such as the cables on one side failing or bent sections that cause the rollers to pop out. This presents a difficult problem, but one that our team can solve quickly. Our technicians travel with a full complement of replacement parts, allowing them to quickly restore the door to proper working condition, and to safely fit the unit back onto its tracks.
Worn Out Or Damaged Rollers
Sometimes the smallest parts can cause the biggest problems. Garage door rollers must move smoothly inside the tracks, but dirt, corrosion or dents can quickly hinder their performance. Our team can remove any rollers that have reached such a condition, replacing them with top-quality new ones that will be more durable and quieter. We'll also make sure the remaining rollers are cleaned and checked for any signs of wear.
Get a Solution Today
Small problems with your door can quickly develop into much larger issues. We strongly recommend scheduling an appointment with our team to ensure the problem is fixed as quickly as possible. Contact our team at Garage Door Repair Westminster for more information on how we can help.
Other Related Advice
Why isn't my garage door opening?
A garage door that won't open is a real nuisance. It could be quite a few issues that cause this. One of the most common ones could be warped tracks or even broken springs. Try opening the door manually. If you can open and close the door in this way, then it is most likely a problem with the automatic door opener or the remote. It could be a mechanical issue or an electric one. Test the wall switch and the remote separately to see if the problem exists only with one or with both control options.
Garage door closes part way then opens again. Why does it do that?
When a garage door partly closes and then goes up again, you could have a problem with a misaligned or dirty photo eye sensor. This feature detects a person, pet or an object when it passes through the garage's opening and stops the door from closing on that obstacle. A quick wipe of the lenses should fix this problem, or you may need to realign the photo eyes so they are completely facing each other again. If you're not sure how to do that without damaging these delicate components, leave it to us.
Need more? We also provide:

Door Level Alignment

Replace Door Sections

Opener Clicker Repair

Overhead Garage Doors